Atlantic Technologies celebrates 25 years. We thought the best way to celebrate these 25 years would be to talk to one of our long-standing customers. Luca Cirillo, currently group CFO at Beautynova S.p.A., has been working with Atlantic since the 1990s, when he first joined the company. He tells us what convinced him to continue this professional relationship uninterrupted for over 20 years.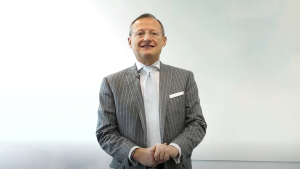 When you first met Atlantic Technologies, where were you working and what was your role?
It was more than 20 years ago now. I had just started working for a major multinational in the disposable products sector. I was Controller and Information System Manager from 1994 to 1999 before becoming the Group's European ERP Manager until I left the company in 2002.
What was it about Atlantic that impressed you?
Without a doubt, the most important characteristic that led me to choose Atlantic was the enormous sense of responsibility and commitment to its customers that transpires in its approach. Atlantic somehow tends to "integrate" itself into the customer company as if it were actually part of it. The consultants are always there for you. The support they provide is real, and it shows precisely in times of difficulty. We work together as one team, with the same level of involvement.
It is a relationship that goes far beyond working together, a level of understanding not easily found with other partners. The Atlantic consultant truly cares about you, and clearly this approach is very much embedded in a healthy corporate culture based on a solid set of underlying values.
What were the reasons for choosing to work with Atlantic all these years?
Throughout my professional career, Atlantic has always been the leading partner in high-tech projects, both in Italy and abroad. There are three distinguishing traits: professionalism, extensive expertise in technology, and the ability to solve business challenges. The support is constant, the level of professionalism is very high and, beyond the expertise, which you can find in many other companies in the sector, it is their ability to deliver that makes the difference.
There are plenty of companies out there which possess the skills, but few can actually complete a project without any setbacks, and offer real solutions when problems arise. What strengthens our partnership is precisely this problem-solving approach and the ability to properly develop the projects to achieve the desired outcome, on time, and without too much effort. This is a given with Atlantic.
Of the many projects you've done with Atlantic, which would you consider to be particularly significant?
Definitely, the project developed for a company where I worked until recently, which brought about a complete transformation of the company organisation and introduced business solutions that continue to have a significant positive impact on the company's bottom line.
This was not just an IT project but rather solutions that laid the groundwork for a full-scale digitisation. Let me give you an example: creating a solution, which in the world of loyalty and customer retention has become very important (community campaigns to support schools), was implemented with the help of Atlantic for the major players in mass retailing.
3 words to describe your partnership with Atlantic
Long lasting, partnership and trust. Our relationship has now lasted a few decades and is based on a very high degree of trust: we work with people we trust.
Plans and goals for the future?
Above all, we are looking to create a 'One Company', a massive system redesign and integration project that the company is carrying out to redesign the Group's organisational structure. The name is not by chance; Beautynova S.p.A is a company that was created and has grown through a series of acquisitions. We are aiming to build a common platform to create one united group by completely redesigning the corporate organisation, all the planning and management systems and sub-systems, integrating them under one umbrella.
It is a challenging project that involves substantial investment and over 2,500 consulting days. Our goal is to complete the project in one and a half years, instead of the three years it would normally take to accomplish.