Field Service Lightning | Upgrade Service Team and provide a proactive service with IoT
Associating the concept of Field Service with that of the Internet of Things accompanies our imagination in a world where everything works: automated notifications before the machines break down and interventions by the Service Team that anticipate routine maintenance. Discover with us how Salesforce IoT Insights makes it all possible.
Field Service, the opportunities of the Internet of Things for companies
By 2020, according to Gartner, more than 20 billion sensors will be connected and Digital Twins will exist for billions of "things" (Digital Twins are the virtual representations of real-world entities or systems). (Source: Top 10 Strategic Technology Trends for 2019).
The opportunities for companies are enormous. Just think of the possibility of selling post-purchase services, increasing customer value for life or even helping buyers get more out of their products. Discover the experience of our customer Biesse.
These opportunities become real thanks to the introduction of IoT Insights in Salesforce Field Service Lightning. Indeed, the solution incorporates IoT signals in the Service Cloud and Field Service Lightning mobile apps together with CRM information. The data thus collected and displayed in their entirety and interaction allow companies and Team Services to offer a personalized, predictive and proactive service.
IoT Insights in Salesforce Field Service Lightning, here are the new features
Thanks to IoT Insights, companies engaged in providing services to their customers – whether B2B or B2C – can:
Anticipate and diagnose problems remotely. Drawing on IoT data in the Service Cloud console, customer service operators can assess whether the problem is urgent, quickly determine the source (often before the customer knows the problem) and quickly send the most appropriate service technician. Furthermore, by crossing the IoT data with those of the CRM and the Field Service Lightning, both the on-site agent and the field operator have a global view of the chronology of the interventions to the customer. Offering a fully personalized service becomes a child's play.
Provide the Service Team with all the information they need. Technicians on the move can find out what maintenance or repair is required and get to the site with the tools, spare parts and knowledge they need. This will avoid unnecessary trips to the warehouse and consequently loss of time and resources.
Automate the creation and management of work orders. Taking advantage of automation rules and guided processes, it is now possible to take full advantage of the IoT Orchestration. For example, companies can set rules to automatically activate a case and send agents to the field when a device starts malfunctioning. This allows the work teams to avoid administrative work, focusing on projects with higher added value.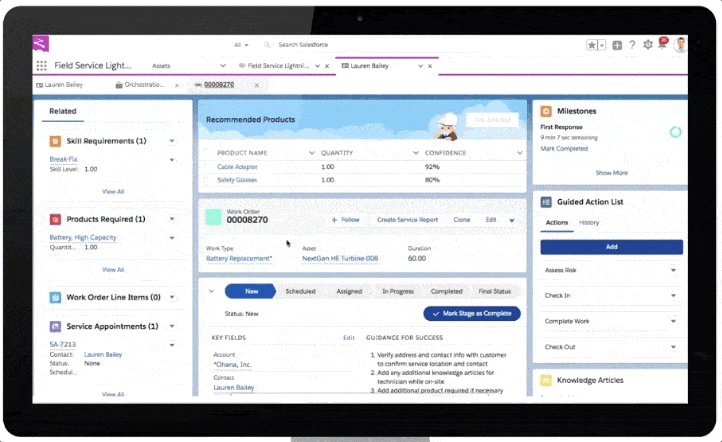 The advantages of using IoT data are now a reality and there are many companies that already benefit from it. Stay up to date on the news of the Internet of Things and Field Service, Subscribe our Newsletter!