A relentlessly evolving global market requires businesses to acquire and handle huge amounts of data in different formats, from both internal and external sources. Hence, the need for an effective and secure data management strategy. Thanks to solutions like Tableau Data Management, businesses can become veritable data-driven companies capable of tackling present and future challenges, while also ensuring full information security.
Let's take a closer look at what data management actually means, why its correct implementation is crucial, and how to fully leverage company data with Tableau.
What is Data Management?
Data Management consists of collecting, updating and making all company information and data available in a secure way. It is an essential strategic activity for both big and small businesses. Until a few years ago, companies based their business choices on perceptions and previous experiences. Now they can rely on a set of processes, policies and metrics that ensure the effective and efficient use of collected data in order to achieve set targets.
These key factors, combined with changes brought about by the pandemic, have generated a significant impact on the global Enterprise Data Management market. According to the report published by Research Dive*, 136.4 billion dollars of revenue will be generated by 2026, with an average growth rate of 10.5%.
Prompt and structured data management enables the monitoring, identification and anticipation of possible risks linked to security, privacy and compliance with regulations, thus avoiding any waste of time and resources.
Why is it important to implement a correct Data Management strategy?
Data are an extremely flexible and versatile strategic asset that can be used, moved and shared by different applications and company units in an autonomous and independent way. However, its flexibility must be optimally managed in order to benefit from all the advantages, while limiting risks. This calls for a specific company strategy, based above all on the implementation of the best technological solutions for enterprise data management.
Today's modern data management solutions for companies are the result of a lengthy evolution that has led to the integration of technologies like IoT, Big Data and Cloud. In recent years, artificial intelligence and machine learning are also becoming increasingly central in data management solutions, enabling companies to manage increasingly large quantities of data, in a simple and rapid way, through highly user-friendly interfaces. A shift in data allocation is currently under way, from data warehouses to data lakes. The former are used for managing structured data, whereas the latter can store large quantities of unprocessed information pending the application of a data management solution, enabling companies to optimise storage processes.
Any business looking to become a truly data-driven company must develop a culture grounded in data, which promotes efficiency in order to deliver unique and first-rate experiences for its customers and employees. This is a fundamental rite of passage that must be accompanied by a data management strategy based on modern technologies and integrative solutions, like Tableau Data Management.
Data Management with Tableau
Thanks to its unique data management approach, Tableau Data Management enables the highlighting of metadata and integrates management processes in the analysis platform. This enables simple and effective visual interaction for end users too, reinforcing the entire data management strategy pursued by the company.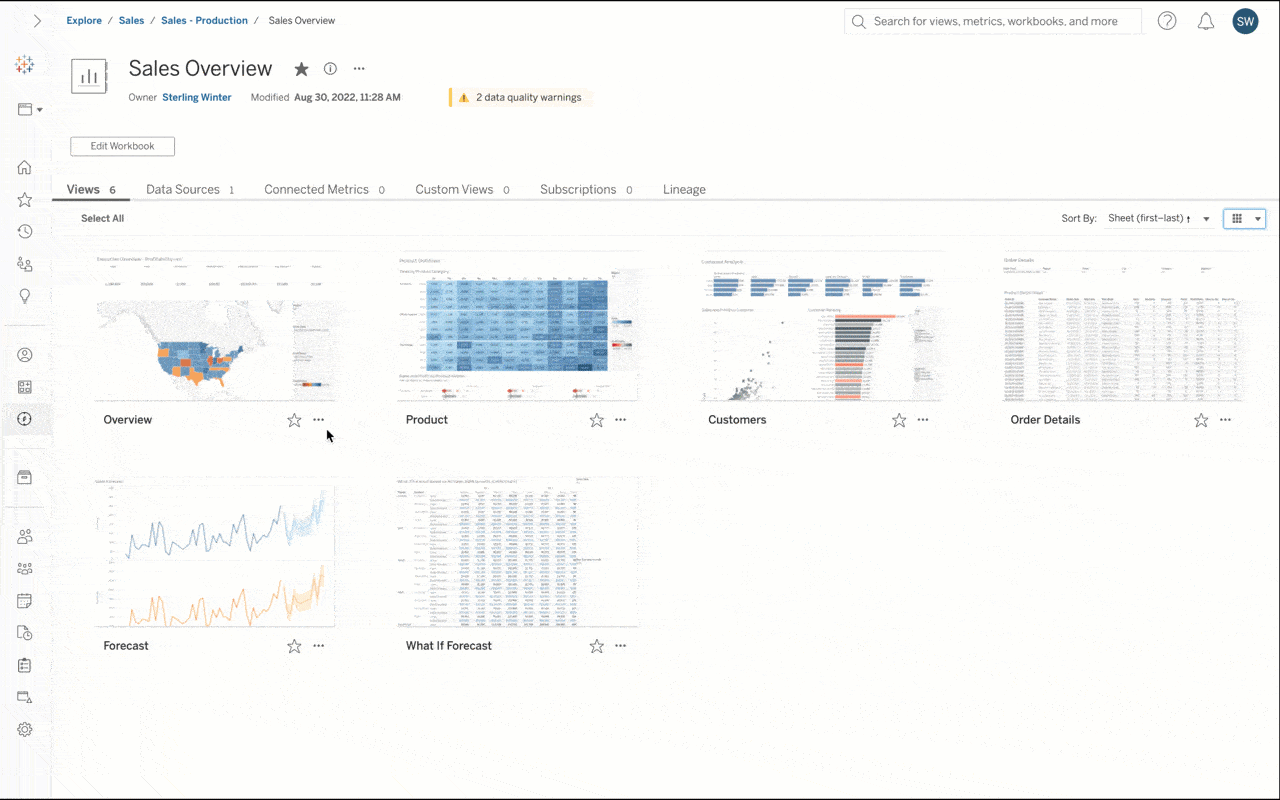 What are the main advantages of a system like Tableau for a company, in terms of Data Management? Let's take a look at them, together:
End-user centric approach: many traditional data management solutions are not designed with end users in mind and tend to be entirely focused on IT managers or admins. Tableau Data Management is designed to deliver unbeatable scalability within a self-service environment, where several people can access data, sharing some of the management responsibilities traditionally borne by administrators alone.
User-friendly interface: thanks its simple and intuitive interface, Tableau enables users to interact with data in an effective way. Whether they are searching for necessary information or further details, the graphic interface enables operators and uninitiated colleagues alike to execute operations with ease.
Increased productivity: effective digital data management helps teams to boost their productivity, by pooling information. This reduces data search and share times and ensures all company teams can access all necessary information for their activities. This benefits business continuity and boosts overall productivity, ensuring the company is able to fully leverage occasions and challenges that arise on the market.
Optimisation of costs and streamlining of decision-making processes: data management solutions like Tableau make it possible to cut the costs of downtime or excessively complex decision-making processes. This is crucial for any company looking to compete on the market, insofar as lengthy times (in the decision-making process or in the execution of orders) may undermine production and brand reputation.
Reduced risks linked to security and data loss: data are a fundamental asset for modern companies, which is why their safety is an absolutely essential aspect. A solution like Tableau Data Management enables companies to reinforce the protection of their data, preventing possible risks of criminal acts or internal errors. In this way companies always have all the information they need and are no longer burdened by the constant concern to protect them.
A solid data management strategy is a must in today's quest to become a truly data-driven company, through the definition of resilient and smart practices. This is an essential rite of passage, based on cutting-edge solutions, qualified partners and a veritable corporate data culture. Atlantic Technologies successfully combines all three elements, enabling companies to leverage the full potential of data in their possession.