Atlantic Technologies: A growing team, new headquarters, and more!
One year ago, Atlantic Technologies celebrated its 20th anniversary with a fun-filled weekend for employees, giving the team an opportunity to reflect on the goals that we've achieved and on what milestones lie ahead. Today, we're proud to announce that we've already reached several of our biggest goals: growing our team and moving our office to a – very spacious – new headquarter.
Marcelo Di Rosa, CEO & Founder of Atlantic Technologies, commented:

"Lots of exciting developments took place on returning from vacation! Our company growth is supported by a Run Rate of 15M in revenue. The new offices are techy, modern, bright, and furnished so that our team can work in an entirely professional, comfortable, and safe environment."
The CEO of Atlantic Technologies continued:
"This is a magical moment in the history of Atlantic Technologies: today's exceptional availability of technology and our ability to transform it into innovative solutions has brought us here, and our success is reflected by our happy customers and ever-growing client base."
The new headquarters of Atlantic Technologies in Milan signify the company's impressive growth
Our new offices, situated in Viale Sarca 226, are… stunning!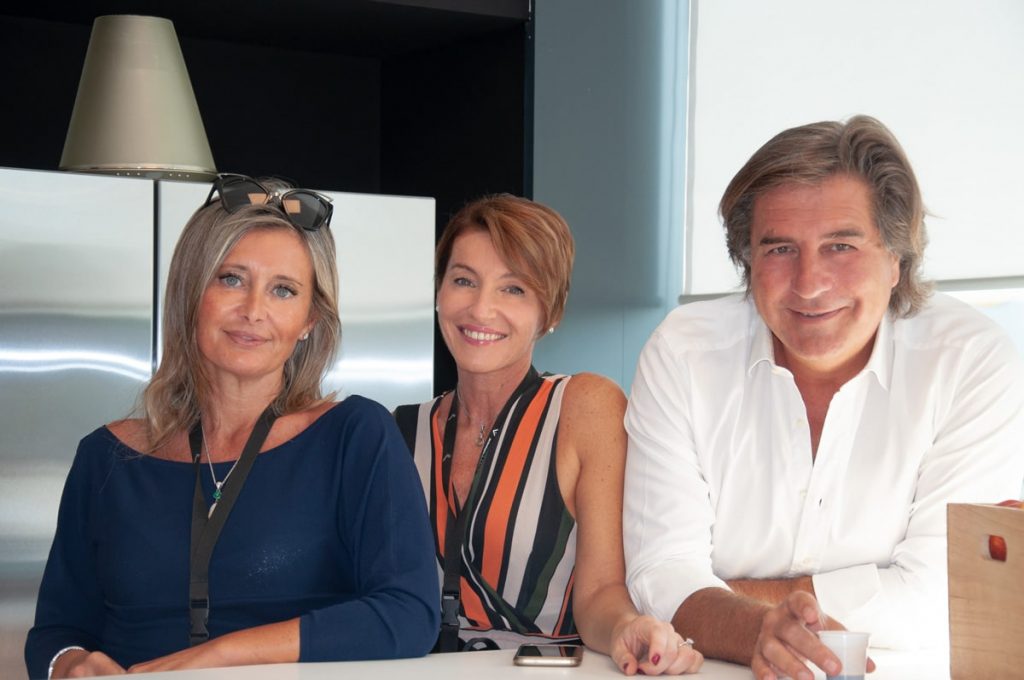 For our company, the move to the new headquarter of Atlantic Technologies in Milan is the crowning achievement of this year's series of developments, including the expansion of our team and the introduction of many new resources.
As a result of these changes, our old offices were no longer big enough to accommodate us.
Our new headquarters, however, are more than double the square footage, measuring 900 by 2200 square meters!
The space strikes the perfect balance between an innovative work environment and a fun place to relax.
"Inspired by the new design concept for work environments, we wanted to create a space that's less formal, and more focused on sharing and innovation. We hope that this will allow Atlantic people to express their creativity and productivity in a way that benefits our business' development and customer growth."
Angela Colucci, VP Strategy & Business Development | Atlantic Technologies
The leitmotiv of the office is undoubtedly technology. One of the most popular devices that we've installed is the Room Manager, which wirelessly connects to our calendars and allows you to view meeting rooms' availability and reserve them directly from the rooms themselves. We've created brainstorming spaces, project rooms, phone booths, and relaxation rooms. The space is also equipped with showers, a football table, and a magnificent lunch room – kitchen, which evolved from our historic 'Atlantic Bar.'
What's more, we've introduced a refined sustainability policy. Among other things, water fountains were installed, as well as a more meticulous recycling system, enabling us to minimise our environmental impact in the office.
"In line with the key players in the world of innovation, Atlantic Technologies has once again reinvented itself, placing a special emphasis on innovation. Now our goal is to continue thriving!"
Angela Colucci, VP Strategy & Business Development | Atlantic Technologies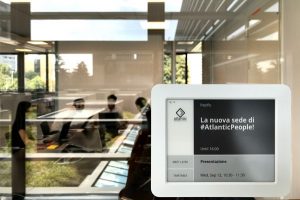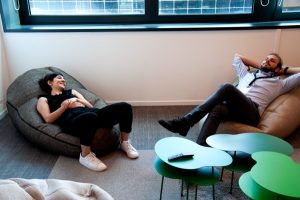 The best is still to come: the future of Atlantic Technologies
While Atlantic Technologies is growing at record speeds, we haven't lost sight of what sets us apart from our competitors and what makes us an ideal digital transformation partner. Our focus will always be the people behind the technology.
Thanks to our team, we have exceeded ambitious budget goals and have maintained an exceptional customer satisfaction rate. It is because of our colleagues' excellent communication skills and curiosity that we've been able to develop and act on new and winning ideas, and we intend to continue doing just that in the future.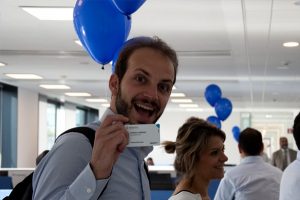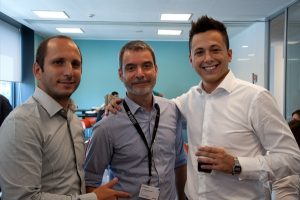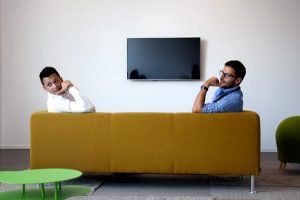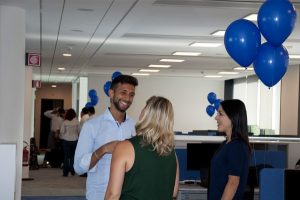 We're ready to dive headlong into the activities that are planned for this autumn and winter, and look forward to welcoming you to our new headquarter of Atlantic Technologies in Milan for events, appointments, and workshops.
#AtlanticPeople are waiting for you! We pride ourselves on our enthusiasm and on our many technological innovations in the fields of CRM, ERP, and Analytics.